"My favourite poem is the one that starts 'Thirty days hath September' because it actually tells you something."
– Groucho Marx
Wailsday, 30/9/15:
Argentina, Salta: the heat feel the heat…as indigenous occupy gas company, cut off routes
Mexico, Campeche: various actions by workers in 3 towns – cutting water off, depositing garbage in streets etc., demanding payment of salaries before end of local mayors' mandates…Chiapas: riots against the new mayor "The protesters set cars ablaze and people vandalized the Municipal Presidency"
Cambodia: report on increases in strikes and likelihood of further increases
Colombia, Carupano: riot over arrests after protest over lack of water supply; roads blockaded, car and motorbike burnt; 1 person killed by the state…Cundinamarca: similar protests over lack of drinking water; roads blocked, police station attacked
South Africa, North West: 3 schools and clinic burnt down in service delivery protest…KwaZulu Natal: students pelt insecurity guards with stone, property damaged as movement over funding continues
India, Kerala: plantation workers strike inspired by wildcat strike in Munnar taken over by Trade Unions eager to recuperate and bathe in the reflected glory of the earlier victorious wildcat strike
US, Illinois: high school students walk out of school in support of teachers More here "…the union contacted the district to get back to bargaining as soon as possible. He said the agreement was turned down by an "overwhelming margin." On Tuesday night, members of the East St. Louis football team decided to organize the student walkout, said Elijah Smith, 16, a sophomore and right tackle on the varsity team. The students met in the cafeteria Wednesday morning and left before classes started, he said. They walked more than two miles down State Street to the administration building. Police cars with flashing lights waited and officers watched. When the gathering of more than 100 students blocked the entrance and gathered near windows, a security officer shooed them away …They said they planned to stay until they could meet with administrators….One substitute teacher, Marshata Caradine, was on the parking lot with the students. She said she is encouraging them to do this. "I'm bending their ear, 'Come and do it,' because they're doing it in Ferguson and turning the world around," Caradine said…."What I see on a daily basis is atrocious because I know it is not preparing our children for a better tomorrow," she said. Teachers with the East St. Louis Federation of Teachers, Local 1220, are worried about a district proposal that would double the amount of years it would take a new teacher to get through the salary schedule". East St.Louis is on the other side of the Mississipi river from St.Louis itself and is in another state – Illinois. State workers in Illinois can strike, but in Missouri it is forbidden. A friend writes: "…one news report i saw said the union encouraged the teachers to approve the contract, but teachers voted it down anyway."
Tearsday, 29/9/15:
Colombia, Bogota: Universidad Pedagogica closed after hooded students and riot cops clash
Peru (south east): after having killed 4 protesters against mine construction, the state declares state of emergency "The Peruvian government declared a state of emergency today in six south-eastern provinces of the country after the death of four people in a violent demonstration against the largest mining project in Peru, led by a Chinese consortium. …The establishment of the state of emergency includes suspending rights of assembly and the inviolability of the home. The clashes began after a meeting of the inhabitants of the area who refuse the construction of an ore processing plant at Las Bambas main mining site in Peru, which extracts copper. They believe that the plant will pollute their water and their cultures….the Chinese consortium MMG… bought the assets of Glencore Xstrata for nearly $ 6 billion in April 2014." [see entry for yesterday, 28/9/15]
France, Paris: victorious striking chambermaids hold fashion week for the poor to celebrate
Lebanon, Beirut: protesters clash with cops as they block Energy Ministry doors Conservative side of this:"…the demonstrators stressed they want accountability, saying their intention is not to ransack the ministry…."The authorities are stealing public money without being held accountable…" Radical side: "They also stressed that they refuse to negotiate with any of the relevant parties"
Mexico, Zumpango: 7th day of occupation of town hall by municipal workers demanding unpaid salaries before mayor (PRI) is replaced….Tierra Colorada: 80 municipal workers strike for the same reason (PAN mayor)
Israel, Jerusalem: wildcat strike by train drivers during week-long festival
Denmark, Birkerod: cop stabbed by Palestinian in asylum-seekers' detention centre
South Africa, KwaZulu Natal: furious protests over student funding close down several campuses "Protesting students brought traffic to a standstill in Newholmes Way and Pietermaritz Street last week, when more than 1 000 gathered and went on a rampage, burning tyres and barricading the road. Buildings on all three campuses were also damaged, with windows and water pipes being broken. Light fixtures in lecture theatres were also ripped out and bins upturned and litter strewn all around the campus and in classrooms…Lectures have been postponed and the campuses shut down until further notice."…. Western Cape: whole "community" protest arrests with burning tyres, rocks and stone-throwing There is something very confused and confusing about these events. The arrests were for the killing and burning of 2 drug dealers who'd plagued the area for some time. Drugs are obviously used to pacify and divide proletarians and to intensify our impoverishment (and have been ever since heroin was brought into the Haight-Ashbury district of San Francisco in the aftermath of the soft-drug-induced "summer of love" – and certainly before then in black areas of the US). However, the complaint is that the cops weren't "doing their job" and had failed to detain these people after the locals had told them about them. Moreover, though one can understand the rage, is killing and burning fairly low level drug dealers (ie not the ones organising the supply routes and the whole business) – getting at the easiest targets – a strategic method of attacking the use of drugs by this society? After all, as long as present conditions continue, drug-dealing with all its inherent risks, is still going to be seen as preferable to normal wage slavery with its crap wages. This is certainly not to assume the aloof luxury of moralist finger-wagging, but if we are to struggle against the inhumanity inflicted on us, we have to reduce our own inhuman tendencies to the minimum. As Nietzsche said, "Whoever fights monsters should see to it that in the process he does not become a monster. And if you gaze long enough into an abyss, the abyss will gaze back into you."
Moanday, 28/9/15:
France, Seine-Saint-Denis: 3 cars overturned, bin burnt, at high school student demo supporting migrants…la Manche: wildcat strike against sacking of worker
Peru, Challhuahuacho: cops kill at least 3 as anti-copper mine protesters try to enter mining area "… ambulances couldn't reach Challhuahuacho, the town of about 10,000 residents where the clinic is located, because police had shot at a vehicle carrying doctors."
Italy, Sardinia: miners occupy mine shaft as part of resistance to redundancies
Stunday, 27/9/15:
Switzerland, near Zurich: 9 army vehicles set alight and destroyed in military base
France, Caen: undocumented squat disused church building…la Drome: about 20 youths stone passing cars; cop car window broken; municipal building also attacked…Yvelines: gendarmes attacked with stones and metal bar by half a dozen youths
Shatterday, 26/9/15:
Germany, Leipzig: as 800 cops protect fascists, various masked youths attack both of them with stones etc.; pacifist priest condemns attack on cop car as "violence" (also reports – in French – from other areas of Germany)
Mexico, Mexico City: cop, fast food restaurant, cafe and adverts attacked on demo about the 43 disappeared students (anarchist article here)
UK, London: cafe selling bowls of cereal for ridiculous prices in poor area attacked by angry mob of a few hundred with paint and smoke bombs Video here Eyewitness participant account here "…a number of upmarket Estate agents got smashed up and kicked in with boots and flying metal street furniture. As riot cops tried to keep up with the bloc and occasionally try to cut it off or snatch people, they were very obviously outnumbered and the crowd weren't having any of it, with missiles flying, confrontations and very physical scuffles breaking out continuously, leading to a decent amount of pighats flying about…There was a "hipster cop pig" effigy set alight, bins pulled into the road and put on fire, which was helpfully much exacerbated by the clueless cops who struggled with the burning effigy spreading the fire. De-arresting was fearless, as at one point almost fifty people swarmed to try and take back one of their own, driving riotcops with shields and batons back off the road."
India, Bangalore: locals sabotage stench-producing compost plant "…a few people from the villages entered the plant premises and damaged computers and office equipment…Angry villagers damaged the unit. They set the dry waste on fire and destroyed a few properties belonging to the compost."
Frightday, 25/9/15:
Mexico, Michoacan de Ocampo: students hijack bus for demo, clash with cops, attack professional manipulators (more info about Mexico here)
Colombia, Cucuta: 3 main roads barricaded by protesting informal sellers of petrol; clashes with cops (video)…Barranquilla: 2 roads barricaded in protests against 3-day electricity cut
South Africa, Limpopo: service delivery protesters dig trench across road "…protesters blocked roads with stones. Police removed the obstacles, but a deep hole has been dug across the road"
Thumpsday, 24/9/15:
South Africa, KwaZulu Natal: compromise deal reached after taxi strike stops all public transport for 4 days "Durban public transport was disrupted for a fourth day on Thursday after minibus taxi operators went on strike last week demanding the release of hundreds of impounded taxis. Thousands of commuters have been without transport since Monday afternoon. More than 160 minibus taxis were impounded by the metro police for operating without legal route permits. In some parts of the city, private buses and taxis have been stopped and prevented from transporting people."
Wailsday, 23/9/15:
US, Illinois: demonstration outside prison in support of prisoners' hunger strike (more here from anti-state sl)
Canada, Montreal: indigenous women shut down phoney pipeline consultation
India, Bihar: Congress Party workers smash up Congress Party offices This they did whilst shouting pro-Congress Party slogans. This is the essence of how ideology works – colonising proletarians' point of view even as they oppose aspects of a world that denies them any genuine voice. Either the self-contradiction is confronted by such people striving to discover the words and theory expressing their physically expressed antagonism or they just don't make sense.
UK, London: mass eviction clashes (video here) More here
France, Grenoble: 2 cops hospitalised after their car windows are smashed by young man…Beauvais: small prison riot
Ukraine, Kharkiv: no idea what this is about "Unknown persons dressed in camouflage and wearing balaclavas, who had reportedly picketed the house of former Kharkiv Governor Mykhailo Dobkin, have come to the Kharkiv town hall…"We're at Kharkiv City Council where a session is taking place now. Prior to that, more than 200 people wearing balaclavas came to the house of Mykhailo Dobkin. Now they've moved to the city council's building and asked [Kharkiv Mayor] Hennadiy Kernes to come out…There have been several clashes between police and people wearing balaclavas. A few minutes ago, someone released tear gas. The city council's doorway is surrounded by a thick cordon of police. The guys stepped about 20 meters back. No specific demands were announced by the people in balaclavas, but while standing outside Dobkin's house, they said their task was to throw Dobkin away from the city and make everything possible so that Kernes would not become Kharkiv mayor…They attempted to brawl at Kernes' outer office, broke a telephone set and went away. At the exit, they clashed with police. They had pepper-spray balls with them. They beat a police officer, tore his uniform. Then they quickly got into several buses and left"
Tearsday, 22/9/15:
Uruguay, Montevideo: video of students hurling rocks at riot filth after being ousted from occupation of government building over education funding…report in English here "Various sectors of Uruguay's transportation and education movement held a 24-hour strike after a group of students was forcefully evicted from the Uruguayan public education administration headquarters. The incident took place after students demanding increased funding for education, were forcefully removed by police from the public building… On Wednesday, several trade union movements criticized the government's handling of the incident. "On national teacher day, the national government makes use of the repressive aparatus to fight with students and teachers, for demanding better education for our students and workers," the Associations of High School Teachers (ADES) said in a statement. …."Those of whom participated in the violence were the taxi unions and other organizations that have little to do with the complaints of the students," Uruguayan Minister of Education Maria Julia Muñoz stated."…Santa Catelina: cops surrounded, stoned, burning barricades after cops wrongly arrest 2 youths
Mexico, Guerrero: students seize 12 buses to go to demo; petrol bombs thrown at cops; lorry torched "On Monday, protesters had ransacked the prosecutor's office in Chilpancingo." Video here "…the students descended from the buses, placed a truck across the tunnel and set fire to it, local media reported. The students then reportedly threw rocks, molotov cocktails and rockets at the police, who responded with tear gas to try to disperse them…..Four police officers – including two female officers – were held hostage until 10.30am when they were released and sent back to Chilpancingo on board ambulances"…Radical university radio programme organisers increasingly subjected to state-manipulated violence in the run-up to the anniversary of the disappearance of the 43 students
South Africa, Gauteng: lessons and tests suspended after doors broken, tyres burnt as students protest crime, stale food and bad accomodation More here…KwaZulu Natal: court prohibits student and sugar workers' protests "…at the Edgewood campus…strikers broke windows, removed students from classes…Of the mill strike… amendments were made to the Labour Relations Act that required the company to reconsider its casual labour policy…. Those not offered permanent jobs went to the CCMA and lost. They then began a strike that included threats of violence, setting alight a company bakkie and a private vehicle."…policing the police "Institute for Security Studies senior researcher Johan Burger said it appeared that the attacks on police were on the rise and this was "extremely worrying". "The attacks on police need to be seen in the context that all levels of violence are increasing, and examples of this can be seen in mob justice and community protests."…taxi drivers stop all public transport…North West: municipal property destroyed, chief finance officer assaulted as demonstrators demand jobs "I'm sick and tired of stealing. There is nothing to steal any more here in Vryburg. Let them give us jobs," said one….Two municipal security guards and a bystander were also attacked during the chaos."
Kenya, Nairobi: journalists and cops stoned as students demonstrate about delays in loans
UK, Durham: prisoners sunbathe on prison roof and wreck a bit of it This trashy article illustrates a typical journalistic contempt for basic human desires – so what else is new?
Moanday, 21/9/15:
South Africa, KwaZulu Natal: student riots cost university about 2 million euros
Eire, Dublin: homeless and anti-austerity group occupy part of private estate construction site demanding social housing
France, Dijon: anarchist squatters successfully resist demolition bid & tear gas, attack ERDF attempts to cut off electricity, barricade social squat for asylum seekers and themselves
Hungary: army authorised to shoot refugees
Stunday, 20/9/15:
South Africa, Western Cape: as "mob justice" kills criminals who add to people's misery, it also attacks cops, burns cop car, puts up barricades
Lebanon, Beirut: clashes with cops as "You stink" movement tries to march on parliament
India, Delhi: youths clash with cops
Shatterday, 19/9/15:
Mexico, Chietla: city hall, cop motorbike & 2 cars burnt in response to police indifference to torture and murder of elderly woman
South Africa, Johannesburg: report about clever method of opening upmarket squats
Canada, British Colombia: indigenous win anti-fish farm battle (see entry on 9/9/15)…or did they???
Burkina Faso, Ouagadougou: 3rd day of barricades, burning tyres, etc.
India, Ahmadabad: sit-ins, roads blocked and cops pelted after farmer's leader is arrested "Ahead of Patel's detention, the Gujarat state government banned mobile Internet services to prevent protests and rumours from spreading. The ban remained in place late Saturday."
Frightday, 18/9/15:
Switzerland, Basel: anti-militarist demo attacks cops, newspaper building etc; rubber bullets & tear gas fired "…fireworks and stones the size of fists were thrown at officers," police said. It also claims that the protesters tried to blind several police using lasers. …The police fired rubber bullets and used tear gas on protesters…Several buildings were damaged with thrown stones, steel screws, construction equipment, bottles… According to various witnesses, several windows of the building housing the Basler Zeitung were broken. Several vehicles of border guard police, police and delivery vehicles were damaged. …Nearly two to three hundred people marched late Friday afternoon in Basel to protest against the holding of the military exercise called "CONEX 15" … The exercise, scheduled until September 25 particularly wants training for the army in order to restore security in the event of a breach of the Swiss border" More here in French
Finland: General strike (more here and here)
Thumpsday, 17/9/15:
Colombia, San Andresito de San José: fly pitchers riot against cops after cop shoots & wounds one of them
Burkina Faso: barricades as demonstrations against military coup spread throughout country; house of member of party of former president torched; shops close in several cities (in French) More here in English "…they had to shoot in the air to disperse hundreds of people who threw stones, burned tyres and blocked streets in the capital"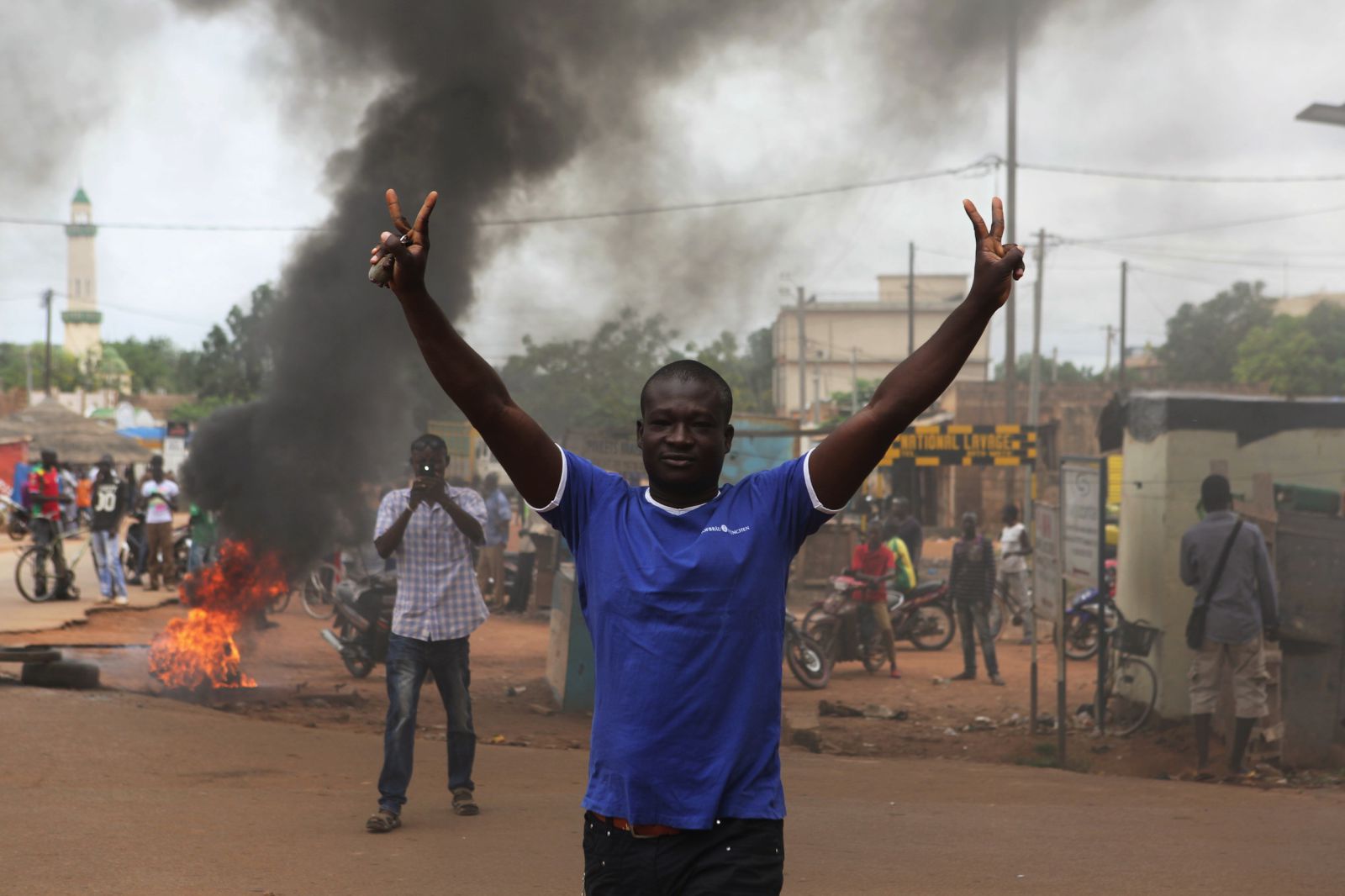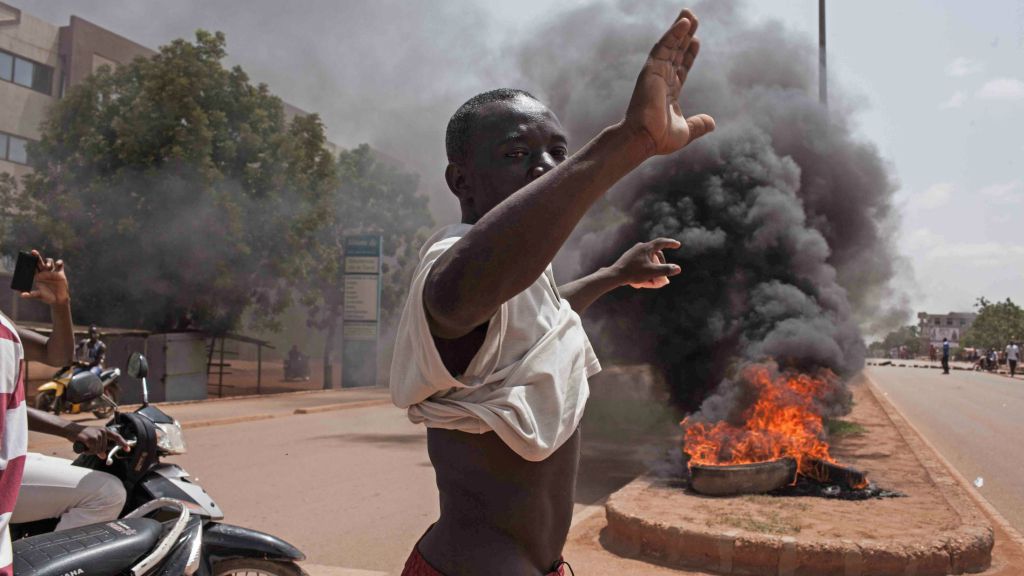 Ouagadougou, Burkina Faso
South Africa, Western Cape: arrests after strikers burn down and destroy warehouse…KwaZulu Natal: authorities close down all student facilities, on or off campus, after campus residence is burnt down in continuing protests about debts "Thursday, a Westville campus residence was torched and students staying there were taken to other residences. On Monday night, a private bus which the university contracted to transport students was burnt to ashes. On Sunday night, two cars and the building which houses the office of vice-chancellor Albert van Jaarsveld were torched. Police spokesman Thulani Zwane said at 2.05am on Thursday, a group of people wearing balaclavas set a laundry building at the Westville campus alight. About five rooms and the laundry were set alight while students were sleeping inside….After the announcement on Thursday that students had to leave, violence erupted at the Pietermaritzburg campus where a car was overturned."
Greece, Athens: police station attacked with molotovs (more here)
UK, London: immigration enforcers' van windscreen smashed
Wailsday, 16/9/15:
France, la Manche: nuke transportation delayed for several hours due to fake bomb on tracks "The organisation Greenpeace, in a statement, denied any participation in this action, as explained by Yannick Rousselet, in charge of its nuclear campaign, "Obviously, there is a clear link between the departure of the train from Valognes and the presence of this material on the railways, (…) we just need to make it clear that we would not oppose such transportation, that we do not intend to disrupt it; now there are different movements in the anti-nuclear movement and the fact can't be excluded that people have wanted to express their disagreement with nuclear power by this method, but it is not ours'." See this official French document on transportation of nuclear substances and this map illustrating routes: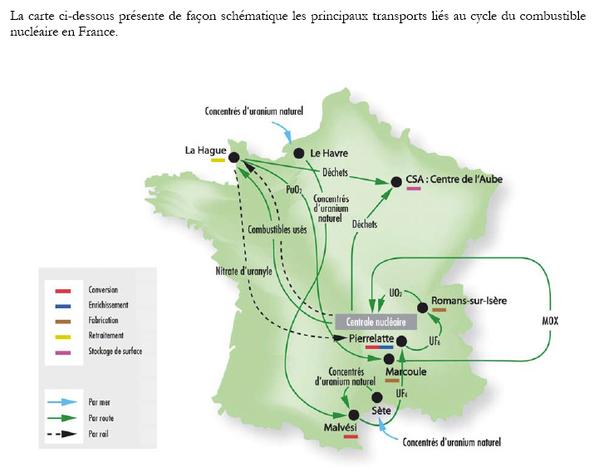 Germany, Dresden: SPD offices attacked with very putrid smelling stink bombs (butric acid)
India, Kerala: women workers begin tea strike 3 days after successful women workers' wildcat in Munnar See also this, from 23/9/15 "…only 1 per cent of the profit from global tea trade goes to the picker. The rest gets split between the retailer, blender, factory owner, trader and the auctioneer. But rather than the economics of it, tea workers are let down by a system that treats them akin to slaves in the 21st century….The trade unions of KDHPL…were dumped by workers because they failed to address the iniquities perpetuated by the feudal-capitalist legacy of colonial planters." And this (from 19/9/15). See also this (28/9/15)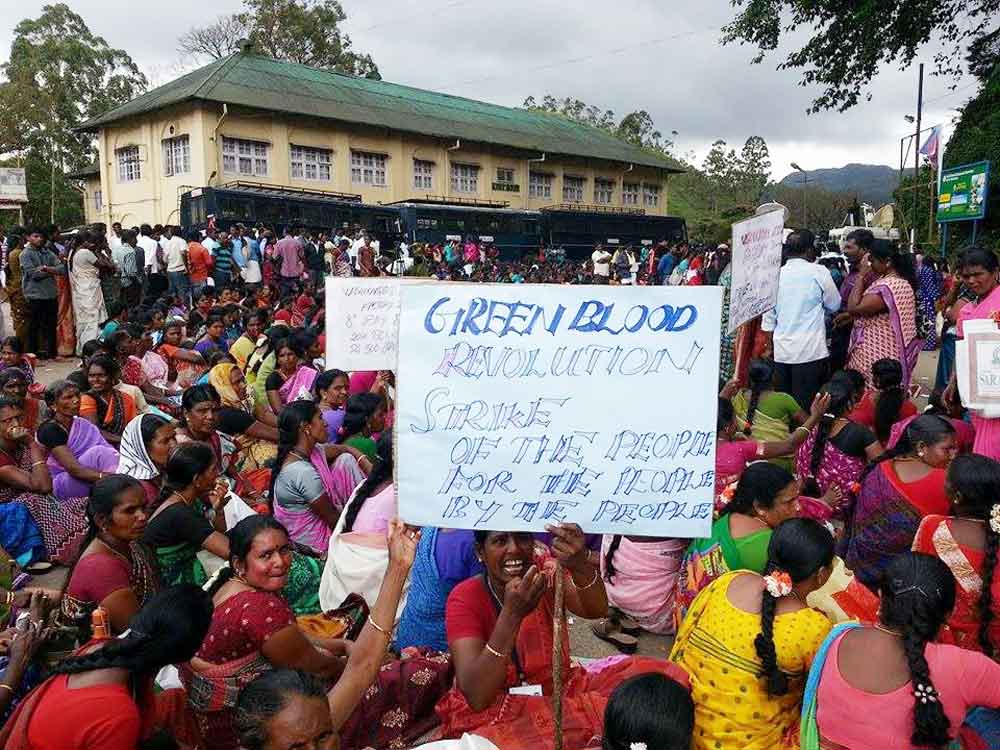 South Africa, KwaZulu Natal: university closes for 2 more days in response to continuing protests; campus property and vehicles damaged; insecurity guard hospitalised
Lebanon, Beirut: decomposition intensifies
Switzerland, Zurich: offices of anti-abortion party trashed
Hungary (Serbian border): cops tear gas and water cannon refugees as they try to break through border "Baton-wielding Hungarian riot police unleashed tear gas and water cannons against hundreds of migrants Wednesday after they broke through a razor-wire fence and tried to surge into the country from Serbia. Crying children fled the acrid smoke and dozens of people were injured in the chaos. … On the sealed border into Hungary, frustrated men — many of them war refugees from Syria and Iraq — hurled rocks and plastic water bottles at the helmeted riot police as they chanted "Open" Open!" in English. Children and women cried as the young men, their faces wrapped in scarves, charged toward the police through thick smoke from tear gas and tires set on fire by the crowd. …"We fled wars and violence and did not expect such brutality and inhumane treatment in Europe," shouted an Iraqi…Serbian state television said three of its staff members reporting at the border were beaten by Hungarian police with batons and that their equipment was broken. Radio-Television Serbia said that Hungarian police pushed a cameraman against the wall and then beat him on the head and back and then smashed his camera. A reporter's arm was also hurt. The beatings occurred while the journalists stood between police and the migrants even though they identified themselves as journalists"…opposition politician claims clash was manipulated by the government
US, Minnesota: school students walk out after school board member's anti-Muslim remark
Greece, Thessaloniki: anarchist report on resistance to gold mine
UK: celebrities do something useful
Tearsday, 15/9/15:
France, Toulouse: 5 cops hurt as 15 surround them during intervention over bar brawl
India, Delhi: art students do what artists invariably do – paint over cracks
South Africa, Western Cape: cop van torched, cops stoned in vigilante protest about criminal killing 14-year-old…University closes all of its campuses in Durban and Pietermaritzburg following protests…KwaZulu Natal: university unrest spreads to 2nd campus "Students have embarked on a violent protest torching and damaging university property. "
New Zealand, Wellington: nicey nicey goody goodies continue to parade their credentials on behalf of all those who can't be bothered "Citizens have come from around the country to participate in our search and seizure action, putting themselves on the line for the hundreds of thousands of New Zealanders who can't. All those participating have undergone practical training in non-violent civil disobedience, the principles of which will be maintained throughout our action"
UK, Manchester: 3rd day of rooftop protest by prisoner gets support from demo outside prison walls More here "A protest party complete with DJ and fireworks was set up on Monday night in the street outside the Victorian prison"
Japan, Tokyo: cops pushed to ground and punched on demo against insecurity bill
Moanday, 14/9/15:
Germany. Hamburg: courtroom windows broken, "Fuck the Nazis and the state" written on its wall… Ingolstadt: railway army convoy attacked, painted over and damaged with handgun bullets
South Africa, KwaZulu Natal: vehicles and building set alight as students get angry over lack of accomodation & ending right to pay debts in instalments whilst continuing studying "Students damaged buildings and burnt at least two cars at the University of KwaZulu-Natal's Westville campus on Monday in protests that again focused on funding and lack of accommodation. Roads near the campus were barricaded with rocks, turning the area into a traffic nightmare. Five campuses across the province were involved in the protests…Students emerged occasionally from residences to hurl stones and bottles at the university's security guards …Campus security guards, known by students as the Red Ants because of their red uniforms and black bullet-proof vests, were armed with crowd control weapons similar to paintball guns. They used tear gas on Monday to fend off the students. The students used ironing boards as shields against the crowd control weapons. The smell of charred wood and melted metal hung over the campus, with the two burnt vehicles, twisted by the flames, in front of the university's Risk Management Services offices. The offices had also been damaged by fire. Campus security came under attack from stone- and bottle-throwers who hid in the residences." More here, here "Rubber bullets were eventually fired to disperse the throng that attacked police with stones and bottles. Fire Department officials were also at the scene after a bus parked on the campus was set alight. Several buildings on the main campus in Alan Paton Road were damaged after students threw rocks at the windows" and here "the main administration block was set alight. Protests continued through to Monday morning with the police's Public Order Policing unit being deployed. Two cars were also torched and numerous tyres were set alight and staff arriving for work in the morning found the entrances blocked by protesters."…Durban: roads blocked with burning tyres etc. for over 5 hours in protest over lack of electricity…Cape Town: local state destruction of homes met with stone throwing v. rubber bullets…report on illegal occupation of houses…Gauteng: workers demanding unpaid back pay blockade ANC regional executive committee and staff in building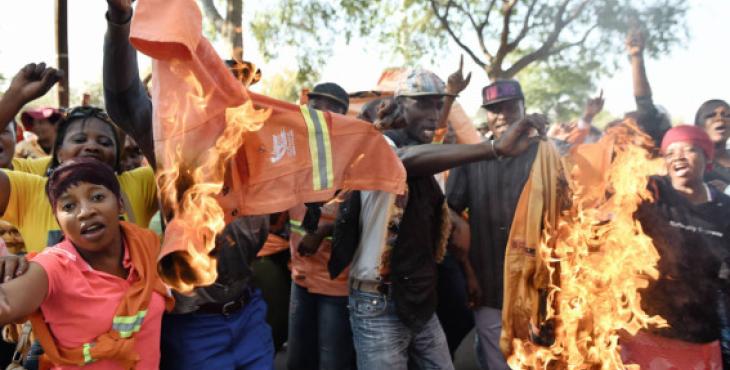 Street-sweepers burn their municipal uniforms while 'arresting' the mayor and Regional Executive Committee of the South African capital city, Pretoria (Tshwane ), who they locked inside the mayoral building
For more about the above action and other stuff see "South Africa: street-sweepers "arrest" mayor…& MORE!!!" – on this site
Greece, Agia Triada: anarchists smash up privatisation finance company's office "The comrades levelled the floor. Computers, laptops, offices, windows, printers, cameras etc. were broken. Files were also destroyed "
Indonesia, Bandung: empty police station attacked with molotovs
Stunday, 13/9/15:

The Latin noun "proprietas" itself comes from the proposition "pro" meaning "for" and the noun "privo" meaning "individual." The phrase "pro privo" then meaning "for the individual" or "belonging or relating to the person or thing in question." From this idea, we have, for example, our proper name - the name that is proper to us.

So, I think we need to start with the most basic question, or the most general question, before we can go on to talking about what is proper to any particular individual - such as their proper name.

The first question this is: What is proper to the human being, as a human being? In other words, what is special to human beings that is not special to other creatures or to inanimate things? In philosophical terms, this is asking the question: What is the "specific difference" that sets mankind apart from all that is not of mankind? What is the essence of mankind?

Marx, in his Philosophic and Economic Manuscripts of 1844, makes it clear that he believes that there is some essence or special characteristic or "specific difference," that sets the human race apart from the rest of the animal kingdom. And not just the fact that we are more intelligent. In other words, there is something that is proper to humanity. Now, this would hardly have been an unusual idea in 1844. Christianity, for example, has always said that we are special because we have a soul. (The Greeks believed that every living creature had a soul, but that the human soul was the most developed.) But, Marx, as a materialist, could not depend on the concept of a metaphysical soul. He had to find some other specific difference, if he wanted to set man apart. And not only set man apart, but say that there is some essence that is proper to mankind in every era. Some essence that defines humanity.

Marx claims that there is one special characteristic, in every era, be it Primitive Communism, Feudalism, Capitalism or Communism (or any other possibility) that sets man apart. That characteristic is what Marx terms "free conscious activity." The word "activity" covers all types of labour, including thinking or physical labour. But what makes this activity "free?" What does Marx even mean by "free?" Marx realized that in the human race, labour \ activity is not connected to any specific task. Capitalism had proved this to be the case. Labour is abstracted from any particular purpose - hence the term "abstract labour" that Marx often uses. Most animals carry out their activity according to instinct. (I say most, as it may well be that some of the higher animals have some level of freedom from instinct.) They gather berries, or hunt, because they are genetically programmed to do so. And, for most of human history, if you asked any person why he or she did what they did, they would have been amazed at such a question. The peasant worked the land, the carpenter made tables etc., because that was their position in life. They were born to it.

But, capitalism changed all that. The peasants were driven off the land, and were forced to sell their labour, as a "thing," on the open market. No longer did they do what they were born to do - but only what the capitalist would pay them to do. As Marx puts it in Das Kapital, the peasant had become "Vogel frei," or Bird Free. He was free as a bird, and just as without land. Labour then was no longer connected to any specific job. Labour was something that humans did, and could be applied to any task.

But, labour as a free force, does not entirely set mankind apart. It may be that the higher animals also do things that are not instinctually programmed or not tied to any specific task. Something more is needed. And that is consciousness. Human beings are capable of being conscious that their labour is free of instinct or specific task, and may make conscious decisions in regard to that labour \ activity. We may, if we wish, spend huge amounts of labour on things that seem to have no logic whatsoever. Indeed, in capitalism, we usually do.

However, this is not to say that actual human beings, at all times, really are conscious that they can make decisions about their labour. In Feudalism, I think its clear that they weren't. Many people in Capitalism have been sucked into treadmills of consumer culture that blank out all consciousness. Decades go by, and people look back and ask themselves: What the hell was I doing? And they are lucky ones. Probably most don't even get as far as asking that question.

But, for all that, Marx claims that the essence of human kind, what is proper to human kind, in every era, and separates us as a species, is our potential for Free Conscious Activity.

This is a very interesting idea, in several respects. Marx is, in effect, defining an entity, i.e. mankind, with reference to something that for periods of even thousands of years, may not be manifested in reality at all - may remain virtual. For example, we said that Free Conscious Activity was probably not generally manifest during the Feudal period. Even kings just did what kings were supposed to do. And, of course, peasants seemed to have no possibility of free choice in their labour at all - particularly as serfs.

Be that as it may, Marx is saying that this virtual human being, this human being of Free Conscious Activity, always set the human being apart.

And, I think Marx has good reason for saying so. Every so often, this virtual human being would crash into reality. Take Sparticus. He said no. He led a revolt against the powers that be. He preferred to die a free man than live a slave. Socrates is another example. His labour was of the mind. But, he set it free of the traditional requirements of his day. And, for that, they forced him to drink hemlock.

It is in these moments of rebellion against imposed order that the human essence breaks through. Without these moments of rebellion, there would be no humanity.

I think then, we can say that the form of society that best allows Free Conscious Activity is the best form of society for mankind, since this would be the form of society that least alienates man from his essence.

Marx openly admits that it is capitalism that, of all forms of society hitherto known to man, that makes labour free of instinct or purpose. Does that mean that capitalism is the best form of society?

Marx, in answering this question, looks to Aristotle. In the introduction to the Grundrisse, Marx refers to Aristotle's concept of the Zoon Politikon - the political animal. Marx writes: "The human being is in the literal sense a Zoon Politikon, not merely a social animal, but an animal that can only individuate itself in society."

Marx, following Aristotle, is saying that the human essence is only realized within a community. Our ideas of the world are given to us from the language our community has given us (and this is the reason why the loss of language is such a tragedy to any nation - when we lose our language, we lose an essential part of our humanity, we lose our community.) Marx points out that all human labour is social labour, as human labour is only carried out through the language of our community. The scientist working alone in the lab is carrying out social labour.

If this is the case, then we must suspect that a form of society that claims that social labour should be appropriated as private capital is not be the best form of society for human beings.

If we take Free Conscious Activity to be the hallmark of humanity, then we are clearly defining ourselves in relation to our activity.

Kant's famous advice to the world on how best to live was to always treat human beings, including yourself, as an end and never a means to an end. That means never to exploit other people as a way to get money or fame or whatever, and, indeed, never to exploit yourself either.

Hegel and Marx hold that the human individual is what he or she does. The person\subject is not inside the human being, ready made and always the same no matter what that human being does. No, the person is always in the process of being created - by his or her actions.

So, is it not true that if you sell your labour as a means to an end (to get wages), that you are selling yourself, and treating yourself as a means to an end? After all, you spend most of your waking day getting ready to go to work, going to work, working, coming home from work, and then being too exhausted to do anything else after work.

If work is to be regarded as a means to an end, i.e. wages, then the people who do that work are also a means to an end.

And this holds for all types of human labour\activity. If we are not in the process of self actualisation in our everyday lives, then we are becoming alienated from ourselves, and becoming a pawn in someone else's game.

And what is that end that the person must be? What is it to treat yourself as an end and not a means to an end? Hegel points out that:

"Mind is only what it does, and its act is to make itself the object of its own consciousness."

Hegel explains this concept in terms of a carpenter making a table. He put his heart and soul into that work, like an artist, and he makes a table that is an expression of himself. When he looked at that table he can see before him a physical manifestation of his own mind. The table had become, for that moment, the mind of the carpenter physically before him as he consciously regards and appreciates it.

Slavishly toiling our lives away for luxury commodities or simply for the means of survival, can hardly be described as Free Conscious Activity. There is nothing free about slaving just to eat and have a roof over our head, and there is certainly nothing conscious about working our lives away for commodities that brainwashing advertising says we must have. Such a life is no different from the lives of the animal kingdom - in many respects, its far worse.

So, we see that at the root of Marx's thought is that idea that we are not just living machines, that can be programmed in any way that seems the most "efficient" - as, unfortunately, much of Cognitive Psychology tries to claim, and as, of course, capitalists would like to believe.

Marx fully accepts that we are subject to the mode of production in which we live - capitalism in our case - and that capitalism determines the form of our interpersonal relationships (as Cognitive Psychology also recognises.) As we saw above, Marx fully accepts that we are a social animal, and that what we are, at any given time, determined by our interpersonal relationships. This being the case, Marx would seem to be agreeing with Cognitive Science that we are just what the society we live in programs us to be.

But, Marx is not saying this. Marx is positing a virtual human being. A virtual essence of humanity, that is always implicit - even when it is not generally manifest in any given society. This virtual human being is the human being who carries out Free Conscious Activity. In other words, the person who consciously chooses to do what he\she does, and always treats him\her self as an end, never a means to an end.

Needless to say, capitalism could not exist in a world where human beings consciously choose to do what they do, and treated themselves as ends.

In Marx's view, inhuman modes of production prevent or distort the expression of human essence, i.e. Free Conscious Activity, and properly human modes of production facilitate its flourishing.

Its clear from the above, the argument is now turning towards a concept that has been central to German philosophy, in a line of thinkers, including Fichte, Hegel, Feuerbach and Marx himself, and that is the Dialectic of Recognition.

Hegel's Master \ Slave Dialectic is probably the version of this concept that most people will be aware of. The argument runs something like this:

The Master looks at the Slave, and fully expects to have his humanity recognised in the eyes of the Slave. But, since the Master cannot (by virtue of being a Master) fully recognise the humanity of the Slave, then the reflection of his humanity that he receives from the slave must be defective and unsatisfactory - since, in the Master's mind, that reflection is not coming from a being that could adequately reflect it, i.e. another human being.

The Slave looks at the Master and sees a human being before him, but a human being that is determined not to recognise or reflect his humanity back to him. In the Master's eyes, the Slave sees nothing but fear, contempt and hatred.

So, in a society of Masters and Slaves, humanity is blocked. Hegel says that in such a society, the Slave is actually the more human, since he is able to look in the Masters eyes and see a human being - but since that human refuses to reflect his humanity back to him, the relation, or dialectic is defective. The Slave's humanity is also diminished.

Marx continues in this line of thought, and in his Ökonomische Studien, he writes:

Suppose we had produced in a human manner. Then each of us would have, in his production, doubly affirmed himself and the other. I would have:

1) Objectivised, in my production, my individuality and its peculiarity and, thus, in my activity enjoyed an individual expression of my life. Also, in looking at the object of my activity (i.e. the product of my work) have had the individual pleasure of realising that my personality was objective, visible to the senses and thus a power raised beyond all doubt.

2) In your enjoyment or use of my product, I would have had the pure enjoyment of realising that I had both satisfied a human need by my work, and also objectivised the human essence, and, therefore, fashioned, for another human being, the object that met his need.

3) I would have been for you the mediator between you and the species, and thus been acknowledged and felt by you as a completion of your own essence and a necessary part of yourself, and have thus realised that I am confirmed both in your thought and in your love.

4) In my expression of my life, I would have fashioned my own essence, my human, my communal essence. In that case, our products would be like so many mirrors, out of which our essence shone. My work would be a free expression of my life.

Later in the same text, Marx writes:

"Thus in work, the peculiarity of my life would have been affirmed, since it is my individual life. Work would, then, have been genuine, active, property."

What could this concept of "genuine active property" mean? What would the opposite to that concept be - ungenuine passive property? Well, that would be a good description of labour in the capitalist system. As Workers, we passively sell our labour, and passively do what whoever buys our labour tells us to do. You can hardly get more passive than that. And, of course, the capitalist system does treat labour as property. We are told that we are all capitalists, since we have property, i.e. our labour, and that we can sell this property for whatever money we can get for it. But, Marx also regards labour as "property," in the sense that labour \ activity is proper to the human being. We cannot be human without it. If that is the case, how can we sell what makes us human? In this sense, selling our labour for money is ungenuine property, it is property that negates what is proper to the human being.

For example. If I am a plumber, and a farmer with private landed property calls me to fix a pipe on his private land, then I must sell him my labour for a price. I have turned what should have been my "genuine active property" into ungenuine passive property. I do this labour because I need money - not because I am part of the functioning of all of society in general, and, thus, of that farm in particular. Only if that land is nationalised, and I fix the pipes on it as a act of social labour - given that those pipes and that land belong to me and to all my comrades - social labour that improves the lives of myself and all my comrades - can my labour flourish as genuine active property.

I think we can say, without serious contradiction, that if labour is proper to the human being, then so is the material on which to carry out labour, i.e. the earth. At one time, this would have seemed an obvious thing to say. But, now that every corner of the earth has been fenced in or enclosed as private property, and those who have done the fencing have been elevated to the position of Masters, we don't hear the obvious stated very much.

For all that, it seems clear to me that Mother Earth is proper to her children, i.e. to every man, woman and child, and, beyond that, to every living creature on the earth.

If we take the example of the farmer and the plumber above, the farmer must look in the eyes of the plumber as one who has taken, as private property, what is the rightful property of all - including the plumber. Will there not be a certain shame, and thus hatred, in the eyes of the farmer, as he turns the living labour of the plumber into a sellable "thing." How could such a farmer look in the eyes of the plumber, and clearly reflect his humanity back to him? Or if the farmer does look in the eyes of the landless plumber without shame, can this be anything other than a lack of consciousness? And how can we have our humanity reflected back to us from the eyes of the unconscious?

A system of interpersonal relations, which engenders fear, shame, hatred, envy and lack of consciousness, as private landed property does, can only lead to a system of violence. This system of violence is manifested, on one hand, in the increased police and surveillance regimes, and on the other, in the increased turning of hatred against one's self in the form of addictions, destructive behaviour and massively increasing suicide figures. As Freud would have put it, the Death Drive becomes separated from Eros, and a regime of isolation and the breaking of bonds becomes the norm.

Instead of human bonding, we get aggressive individualism and private greed. Every man is condemned to being an island. And, talking about farmers, it is no accident that so many farmers never marry. The fear of loosing half the land in a divorce case overcomes the natural human need for love and companionship.

Private property in land cuts man off from the earth, and cuts man off from his fellow man. His living labour, which should be the expression of his humanity, becomes a dead "thing" to be bought and sold at the market price. His awareness of nature withers away. Even those who work directly on the land now regard it merely as an instrument of profit, and have no second thoughts about abusing it with chemicals, GM crops, etc. It's no wonder that young people today seem to care about nothing. Their parents have, in effect, reared them to believe that the very earth on which they stand is of no interest - except as an instrument of profit. A corrupt government could build a motorway through the most sacred place in Ireland, Tara, and hardly anyone cared at all.

In effect, the Dialectic of Recognition has been replaced by the Dialectic of Having. Instead of seeing our worth in the eyes of others, we see it only in the "things" that we have - including bits of land. Instead of giving our love to our brothers and sisters, we give it to those things that help us dominate others, i.e. all forms of capital, (including the earth itself, now reduced to the level of capital.)

Instead of being what we do, we now become what we have.

And since all we can have are things, we have become as dead as the things we own.

And, of course, we rear our children in this diseased way of thinking - particular children that we expect to inherit our ill gotten gains and keep the family name above the rest of humanity.



WHERE DOES THE DESIRE TO OWN LAND AS PRIVATE PROPERTY COME FROM?

Conservatives will point to nature for the answer to this question. They will present the dog who pisses on a lamp post, marking out his territory. Our laws of private landed property, they will claim, are nothing but this genetic coding codified into law. To oppose private property is to oppose nature herself, they will claim.

Well, this argument is weak, in at least two points:

1) Human genetic coding hasn't changed to any significant degree in the last 100,000 years. And for most of that period, the human race lived the lives of hunter gatherers, and showed no need for private landed property at all. A the very most, a group would claim usage over a territory, for as long as the group was able to use it. When it could no longer use it, it moved on. Even today, there are peoples who show no desire to hold land as private property. This being the case, it seems that there really is no private property gene.
2) An animal marking out his territory is structurally completely different to private landed property. An animal marks out territory to let rivals know that this territory is in use, and will be defended by the marker, for as long as the marker has the strength to defend it. The minute a stronger animal comes along, or the minute that animal leaves the territory, that mark no longer has any validity or effect. This is in complete contrast to the concept of private property. A deed of property is valid regardless of use. It is not the claimant himself who defends the claim, but the armed power of a state. Private landed property is always a function of a state power. And the deed remains valid, even after the death of the owner. It clear that private property has nothing whatsoever to do with nature or genetics, but of social relations only.


But, it is clear that there is a deeply ingrained desire in many human beings to own land. We are told that the Irish have a particular love of private property. As it happens, this is completely false. Ireland is about 18th place in Europe for home ownership, and 86% of Irish land is owned by about 4% of the population. In reality, it seems the average Irish person has only an average, or even less then average love of owning land. It's that 4% that we really need to wonder about.

So, regardless of who actually has this love of land ownership, we would be foolish to think we don't have to account for this love \ desire.

We saw above that Marx recognised that human labour is abstract in nature, i.e. it is not instinctually determined or tied to any specific task. The human being can spend his or her labour on any and every activity possible.

It was Freud's greatest discovery – even greater than his work on the unconscious, which had been anticipated by many before him, including to a very high degree Nietzsche – that not only is human labour abstract, but human desire is equally abstract. Our sexual and other drives are not instinctually determined. In his Three Essays on the Theory of Sexuality, 1905, Freud describes the infant as "polymorphously perverse." In other words, the infant will get sexual pleasure from any and every part of its body. He or she must be trained to direct his desire towards the genitals and towards sexual reproduction. This is in complete contrast to most of the animal kingdom, where sexuality is strictly determined, by instinct, towards reproduction.

So, now we have three great phenomena which mark out the human essence:

1) Abstract Labour
2) Abstract Desire
3) Consciousness

Not having our desire fixed by nature is a huge benefit to human freedom, but, as Deleuze and Guattari point out in their book, Anti-Oedipus, the down side of having a free floating desire is that it is very easily captured – and that's what the capitalist system does very well. A captured desire is no longer a free desire.

But, it would be nonsense to suggest that capitalism is exceptional in its capture of human desire. Indeed, Deleuze and Guattari claim that the capture of desire is one of the primary functions of all hitherto known human societies. They point out that in hunter-gatherer societies, what a person is supposed to desire is literally tattooed or branded onto the skin of each member of the tribe. They call this system of Primitive Communism a system of cruelty, as many of the rituals of manhood, womanhood, marriage and birth are rituals involving great amounts of pain. In such a "primitive" society, the means of life are always close to hand. Human desire, unmoderated, will fix itself directly on the means of life – as animals do. The social will become impossible – as will the properly human, which is always social. Deleuze and Guattari claim that primitive societes use large doses of ritual pain to break this direct connection with the means of life. A bride's womb is literally marked with the function of producing children for one particular alliance of families. A warrior or a hunters body is branded with the functions he must carry out. Nobody in such a society would ever think of asking who they are – it is literally cut into their bodies. I think it is no accident, that as Capitalism breaks down, we are seeing a huge increase in people getting tattoos. Capitalism is no longer able to tell them who and what they are. Indeed, capitalism must not tell them, as capitalism needs them to be whatever and whoever is most profitable for the capitalist at any given time – and this identity must be constantly wiped out and remade every few years, so as to keep a new line of commodities churning off the conveyer belt.

So, within the hunter-gatherer community, belonging to the tribe, and carrying out the ascribed function given to you, was considered the most desirable thing to do. Your whole desire was contained within the functioning of the group. Personal freedom was, of course, out of the question. Such a concept would be totally alien. Every child was the child of the group. Incest was not wanting to sleep with your mother – all the women in the tribe were your mother. Incest was wanting to consume for yourself what you had produced. Indeed, in the 20th century, there were still tribes which forbade a hunter from eating his own kill. Exogamy was merely a special case of the taboo on incest. As you didn't selfishly consume the food you produced, you didn't selfishly enjoy the children you had produced. Such a society did not need police or prisons. The greatest and most lethal proscription was exclusion from the tribe. Once a person had been excluded, his whole personality had been taken from him, and, not only that, but his chances of survival became very poor.

The coming of tillage brought a whole new from of society – at least, after a time. Fixed communities of farmers offered a huge opportunity for a new form of beast in the world – the despot. And with the despot, came a new form of writing. Instead of having your existence written on your body, now your existence was written down in the ledger of the despot. You still knew who you were. There was no question about that – you were the vassal of the despot \ god. And the despot always claimed to be the descendant of a god. God's representative on earth. Now, instead of having your desire contained by the tribe and its rituals, your desire was directed to this despot god. You owed everything to this king. The land you worked on was the land of the same lord who owned you. You were part of that land. Such a despot needed an organised religion to glorify himself – and to collect all the dues owed to the god. Desire had now been freed from the local rituals of the tribe – only to be captured by the state religion of the despot. And with the despot came money. The despot didn't care much for chickens and wheat. He wanted his due in gold and silver. So, now the threat was no longer being excluded from the tribe – but not having enough gold to pay the despots taxes and rents. Sudden death by execution became the daily possibility that hung over every man and woman. You literally owed your life to the despot \ god, and he could take it away any time he pleased. Incest also changed its function. Instead of being a general taboo. Now incest became general. But, exclusively for the despot. The king was the son of the god, and the father of all his vassels. Instead of everyone belonging to separate tribes and families, all related to the earth, now everyone was equally related to the despot, and so related to each other. For the first time in history, the masses come into being. Each individual is separately related to the despot, and so is totally undifferentiated from every other individual. That's not to say that brothers and sisters were now free to sleep together if they wanted to. Far from it. Only the lord or king was allowed this privilege. This was made manifest in ancient Egypt, were only a sister of the Pharaoh was deemed worthy to be his bride. But, in the Feudal era, it manifested itself in the Droit du Seigneur, the right of the Feudal lord to take the virginity of every bride on his estate (remember that every one of his vassels are considered his children.)

Now, instead of the taboo on sexual relations between family members being an after effect of the general rule on not enjoying privately what you have produced yourself, in other words, instead of exogamy being a positive rule to keep sexual and economic production social, the ban on incest becomes entirely negative. In other words, since incest is the prerogative of the lord, we are all supposed to envy this privilege, and incest is supposed to be what we all really want. Religion then steps in to stop us doing what we are all supposed to really want to do – sleep with our mothers and sisters.

And then capitalism changed everything. You no longer knew who you were. In fact, you were nobody. You just had something – labour. And you could sell that labour to whoever would buy it. You didn't matter personally to the employer, and he didn't matter personally to you. Gone were the days of having a tribe, or a lord, or an ancestral homeland. You moved to wherever you could sell your labour – be that on the other side of the planet. Moving around like this, all previous extended family and tribal ties were destroyed. The family became the nuclear family. Instead of the child having a multitude of mothers and fathers, it now only had one mother and one father – who took on an exaggerated role in the life of the child. No longer was the child's desire spread across a multitude of personalities in the extended family and tribe, but was now obsessively focused on one couple, or one person of that couple. The era of the Oedipus Complex was born, and incest really was all in the family. In such an enclosed space, the father took on the role of the despot (now called a boss), and the mother gave the only physical pleasure a child could expect to get. Breaking the child out of its "natural" incestuous tie to its mother, and getting him to accept the social order of the father \ surrogate boss, seemed to be the main purpose of child rearing and socialisation.

(It will be clear from the above account, that the nuclear family is a reflexion, in miniture, of the social order of capital – and not the origin of the capitalist order, as conservatives would have it. In other words, the father is the reflexion of the king – not the king the bigger version of the father.)

The "deal" that the Oedipux Complex offers the child, as Freud and Lacan have pointed out, is that Being is exchanged for Having. (And we remember that Marx had recognised this dynamic in society sixty years before Freud did.)

Instead of Being in direct communion with the mother, the child is offered Having instead - social positon, wealth and a woman of his own, outside his parents family.

Incest has, in capitalism, become totally confused and displaced. It is pure life and the means of life that the child wants – but the bourgeois nuclear family reduces all that to the body of the mother – and then tells the child its unhealthy to want the mother like that. Now falsely convinced that it's his mother that he really wants – but cannot have, the child is offered "things" as a replacement. Things that can never fill the hole, because it was life the child wanted – and things are dead. But, sadly, for the rest of his or her life, that individual will try to accumulate things – including bits of land – as a replacement for life.

The desire to own land is the extreme level of this displaced incestuous desire. It is a return to doing precisely what the incest taboo had originally prohibited – private enjoyment of your own production. The mother's body is directly possessed and enjoyed in effigy – in the body of the land. All other claims to this body are rejected. The landowner, as selfish, incestuous, infant, will have what he thought he always wanted. And the social world can go to hell (but not completely – as, infant like, the landowner still wants his free milk, i.e. state subsidies.)


SOME COMMON ARGUMENTS FOR PRIVATE LANDED PROPERTY REFUTED

I quote:
In Chapter 5 of his 2nd Treatise of Government, John Locke makes an extremely important argument concerning the origin of property rights. His argument has 4 main premises. First, Locke begins by assuming that the Earth is originally held in common by all men. Second, Locke says that, though he has no property in a pre-human all-natural world, man does have sole ownership of property in his own person to which no one else has any claim. Further, the activity of labor falls into this category of property in man's person. Third, Locke believes that mixing one's personal property with un-owned or natural substances improves, or at least alters, the substance and "annexes" an owned piece of the laborer to that substance. It is also an implicit premise, from the conclusion which Locke draws, that he believes that the act of mixing personal property with natural substances removes the raw substance from its natural state, and, thus, from the field of potential objects which other men can use or appropriate or own.


From all of this Locke deduces that labor leads to the creation of property. Labor upon raw substances improves their use-value, or, at the very least, takes them out of the state in which nature originally provides them, and, because labor is something which the laborer owns, and because that labor is mixed with the raw substance, the laborer comes to own the fruits of his labor. Furthermore, due to Locke's first premise, the laborer must not take however much he wants or can, but only enough so that there is "enough and as good" left for everyone else. This is because the Earth is held in common by all men, so all deserve an original fair share or, at least, fair chance at a share, of it.

Read more: http://www.infobarrel.com/John_Locke%27s_Argument_for_Private_Property#ixzz1avCwoZEj


Refutation:

We have seen above, that is is illegitimate to consider human labour as private property. It is only legitimate to consider human labour as social activity. That being the case, Locke's argument above is rendered a paralogism, or a misconception arising from faulty reasoning.

Quite apart from any definition of labour, Locke's argument is also a formal fallacy of the type:

X + Y = Y

Where X is not equal to zero

In other words, Locke is claiming that if there is land X, and private property Y, in
the form of labour, is added to it, then the total becomes private property Y.

This is the same as arguing that if there is a hydrogen atom X in the universe, and a helium atom is added to it, the result is a helium atom.

This, of course, is nonsense.

Locke, would, of course, come up against another problem. For example, if there is land held in common between two people, and one of them erects a fence and claims the lands as his private property – just because he has added labour to it, how could that be legitimate? Would that mean that private property would never have a secure basis – as all anyone would have to do is go into a field or a factory, do some labour in it, and it would automatically become their private property.

Locke tries to solve this problem by use of an argument which has become known as the Lockean Proviso.

The Lockean Proviso
On each of Locke's accounts of the origin of private property rights, unowned property can only be acquired subject to the Lockean proviso. This proviso is an 'enough and as good' clause on original acquisition, stating that we can only appropriate unowned property if we leave enough and as good for others.
Where resources are scarce, according to this proviso, I cannot legitimately stake a claim to something by annexing my labour to it. Neither can I make it mine by enhancing its value. If the resource is necessary for the continued well-being of others, then the fact that I was the one who developed or improved the resource does not give me exclusive rights over it. My entitlement to reward for my labour is overridden by the entitlement of others to that which is necessary for their survival. On Locke's view, people have a right to charity from others' plenty.

http://www.politicalphilosophy.info/lockeanproviso.html


In other words, I may fense in a commons – only if I give, in the form of charity or wages, at least as much to those who have lost out because of my claim of private property.

This argument is of vital importance, as it is the main argument used by Right Wing elements everywhere. They claim that private property in the means of production leads to the population in general, including those who have now been dispossessed , having a higher material standard of living. They point to the experience of the USSR as practical support for this claim.

Given our discussion of Free Conscious Activity above, the flaw in this argument is obvious. By taking that land as private property, even if I give those who have been dispossessed at least, or more than the material wealth they had, I have still not given them what they once had, i.e. the ability to carry out Free Conscious Labour. I have turned them into wage slaves. Even if they are highly paid wage-slaves, they are still wage slaves. Their ability to create their own world has now been taken from them, and their labour has been turned into a dead sellable thing.


Another common argument used to justify private property in the means of production is known as the Tragedy of the Commons:

The Tragedy of the Commons

The tragedy of the commons is a term coined by scientist Garrett Hardin in 1968 describing what can happen in groups when individuals act in their own best self interests and ignore what's best for the whole group. A group of herdsmen shared a communal pasture, so the story goes, but some realized that if they increased their own herd, it would greatly benefit them. However, increasing your herd without regard to the resources available also brings unintentional tragedy — in the form of the destruction of the common grazing area.

http://psychcentral.com/blog/archives/2009/07/29/the-tragedy-of-the-commons/


Refutation:

Again, this is an extremely common argument used by neo-liberals particularly, when arguing for the privatization of lands in the Third World.

The jist of the argument is that only a private landowner will be motivated to look after the land. Those who do not privately own it, will use it to exhaustion, and then just leave it.

However, it seems that this argument was more of a thought experiment on the part of Hardin than an argument based on any kind of empirical data. Indeed, he didn't give one single example of his theory in operation.

Empirical data refutes this argument completely. Feeny et al, in their 1990 paper "The Tragedy of the Commons: Twenty Two Years Later," Human Ecology, Vol 18. and E. Ostrom in "Handbook of Agricultural Economics," 2002., give extensive impirical data, showing that communities are well able to limit use of common land in a fair and efficient form. They show that, far from improving the situation, in the Third World, and elsewhere, the privatization of land has led to private farmers pulluting rivers with chemicals and waste, as the social controls which once prevented such behavior have been broken down by privatization.

Indeed, Fredrick Engles had already refuted this argument in the 19th century, by his study of the German "Mark" system, in his "Socialism, Utopian and Scientific," 1892.

Another argument that is often used is that a free market in land leads to inefficent farmers being driven out of farming, and the land put into the hands of the most efficient farmers. This argument, like the Tragedy of the Commons, is very common, and always made without the slightest regard to empirical data. This argument is, in fact, so false, that even the World Bank, in its 2003 report, Land Policies for Growth and Poverty Reduction, has called for restrictions on the ability of farmers to sell land in the Third World. The report notes that far from a free market leading to land coming into the ownership of efficient farmers, land is, instead used as an inflation safe means of storing value by wealthy speculators and others, who have no interest in farming whatsoever. Land prices increase far beyond the value that its possible production could justify, and efficient farmers are driven out of the market. Of course, this phenomenon is equally found in the West – not least in Ireland. But, in places like Ireland, subsidies have made efficiency irrelevant anyway, and have totally divorced land values from yields.


CONCLUSION
To finish, I would like to direct my arguments onto Ireland specifically. We see that farmers now get two thirds of their income from hand outs paid for by the urban worker. So its clear that the current structure of farming is uneconomical and can only be sustained by putting a massive burden on urban workers. Farm collectivisation has a bad name, but, in reality, this is what the EU has being trying to do for a long time, i.e. to push out the small and middle sized farmer in favour of the large ranch. This system puts incredible and unmerited wealth in the private hands of the rancher. Larry Goodman, for example, collects a single hand out every year of half a million euro - just for owning so much land. It makes much more sense to run these large farms/ranches as state farms, with workers doing a 40 hour shift, like any other worker. As I say, all Irish farms are massively subsidised already by the taxpayer. Even if the state farms were no more profitable, or even a good bit less profitable, it would still mean a massive saving for the population in general, as land for roads, schools, homes, hospitals, etc. would already be in state hands, so no addition fee would have to be paid. This would make an enormous change to the very structure of Irish society, as increases in productivity in the workforce would no longer be converted into higher land prices - as happened over the last ten years, and during all times of prosperity over the last several hundred years. Instead of increased productivity being swallowed up by land price inflation, it could instead be put into building up a native Irish industry that would lessen our junky like dependence on the multi-nationals. This retardation of Irish industry that is a real cost of leaving the land in the hands of about 4% of the population.

Private property in the land of Ireland has never worked for the Irish people. Since the privatizing of the clan lands by the English conquerors, it has only brought us famine and emigration and class domination – and, now, state bankruptsy and dependency on the IMF.